| | |
| --- | --- |
| Chairperson | Margaret King |
| Corresponding Secretary | Kristina Anic |
| Minutes Secretary | Sinéad Cullen |
| Treasurer | Alistair Kerr |
| Vice Treasurer | Cáit Harlow |
Úna Feeley, principal, appreciates the support the Parents Association give to the school.
St. Comán's Wood Primary School was founded in September 2017 as a result of the amalgamation of Scoil Mhuire and the Abbey B.N.S. A new Parents Association was established at that time. Membership is open to all parents/guardians of all pupils enrolled. It promotes the interests of the pupils in co-operation with the Board of Management, Principal and staff.
Parents as a group have a wide range of talents, abilities and skills that have the potential to enrich and extend the educational opportunities provided for pupils.
Since its inception the Parents Association has made a very worthwhile contribution to the school community. It is a structure through which parents can work together for the best possible education for their children. The PA works with the principal, staff and the BOM to build effective partnership between home and school.
• Children do better, behave better and are happier at school where parents and teachers work closely together and support each other
• Teachers can do a better job where they are supported by and working closely with parents
• Parents can do a better job when they have the support of other parents.
The following are some areas parents in St. Comán's Wood have contributed to in the past:
• Pupil Insurance scheme
• Family Fun Day
• Non uniform days
• Carol Singing
• Uniform sales
• Healthy Eating Policy
• Car Park safety
• Green Schools
• Arts Days
• Communion Parties
• Attendance
• Book Fair
• Fundraising
• Sport
• Christmas Concert
• Sports Day
• Easter Parade float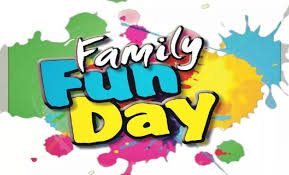 Our Parents Association organised a wonderful 'Fun Day' for our pupils' families on Saturday, 23rd June. There was a great turn out to our senior site where there were bouncing castles, refreshments, ice cream, face painting and music. Many families made the most of the good weather and brought picnics too. The day would not have been as successful without the help of many parent volunteers and to them we say a big 'thank you'. We are looking forward to next year's 'Fun Day' already!
Cash for Clobber
Clothing Recycling Collection - Friday, 20th April
Thank you very much to all families who supported this initiative organised by the Parents' Association. We were delighted to see so many bags of clothes dropped off for collection!