Beannachtaí Féile Pádraig!
Bhíomar an-ghnótach an tseachtain seo caite, ag ceiliúradh Seachtain na Gaeilge agus Lá Fhéile Pádraig. Tá súil againn go mbeidh deireadh seachtaine fada iontach ag na páistí inár scoil! 
Essay Competition
Congratulations to pupils from Ms Crehan's 6th class - Seán Crean, overall winner and Madison Murray Corbally, school winner of the Roscommon Drama Society essay competition. Pictured here with their winning stories! Well done Seán and Madison!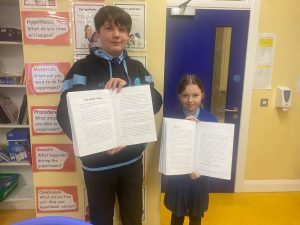 Scór na bPáistí
Our school had a hugely successful night at Scór na bPáistí in Elphin. Well done to all the children who participated. The standard was exceptionally high - every school was wonderfully represented. 
RESULTS:
Figure Dancing 1st
Recitation 1st and 2nd Sarah K. and Kara
Ballad Group A 3rd
Instrumental Group B 1st
Set Dancing joint 2nd 
Grandparents' Day
As part of Catholic Schools Week 2023, we were delighted to welcome many lovely grandparents to our school to celebrate Grandparents' Day. 
Credit Union Quiz
Well done to our u11 and u13 school quiz teams who took part in the Roscommon Credit Union quiz on Sunday, 29th January. They did great and came joint 3rd and 5th respectively. Thank you to the 8 children who participated and did such a great job representing our school. We are very proud of you!
A Visit from Minister for Education, Norma Foley T.D.
We were delighted to welcome Minister Foley to our school on Thursday, 19th January. As part of her visit, she engaged with our Student Council on the junior site and officially opened the new extension on the senior site. She was warmly welcomed to the school by the pupils and staff. Our musicians, led by their Music Generation teacher Natalia Gorovenco, played beautiful music on their stringed instruments upon Minister Foley's arrival to the senior site.
A truly magical and memorable welcome at St Coman's Wood junior school in Roscommon Town. It was a pleasure to open your new extension with @SenatorEMurphy, @AislingDSenator and local reps. Special thanks to the Student Council for the brilliant, insightful questions. pic.twitter.com/jOaQHFVWQu

— Norma Foley T.D (@NormaFoleyTD1) January 19, 2023
Christmas Performance at Tesco
A huge well done to our fabulous choir, musicians and dancers who performed today outside Tesco. We have had a busy few weeks, with many of our pupils involved in plays, musical performances and other Christmas activities. Please check out our social media pages (Twitter and Facebook) to see more videos and pictures of what we have been up to!
Intercultural Evening in St. Comán's Wood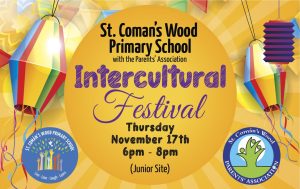 St. Comán's Wood Intercultural Festival took place on Thursday, 17th November. It was a wonderful evening, where we celebrated the wide range of cultures in our school. A huge thank you to the Parents' Association for organising the evening, as well as the many families who set up tables to represent their countries, showcasing food, clothing, music, art and literature from around the world. Thanks also to the many families who took the opportunity to visit our school and experience the cultural diversity of our school community.
Science Week in St. Comán's Wood
We are very thankful to the science teachers and students from the Convent of Mercy secondary school who came to our school and conducted a number of science experiments with our 5th and 6th class pupils as part of Science Week 2022. The children enjoyed the experiments and it was a fantastic learning experience for them. 
Thank you also to Ann Marie Healy, Senior Radiographer in Roscommon hospital, who came to speak with the 3rd and 4th classes about her work. The children found it very interesting and loved looking at real x-rays. 
The children in Ms. Maher's class learned about floating and sinking during Science Week.
Primary School Curriculum - STEM Education Event
Pictured below are our Student Council 5th and 6th class representatives who recently attended a NCCA Primary School Curriculum STEM Education Event in Athlone. The event consisted of pupils, teachers and parents who contributed their thoughts and ideas around the teaching of STEM subjects in primary schools. Well done to all involved!
Well Done Victoria!
Victoria Chohan from Mr. Devaney's 6th class, won 1st place in the Roscommon division of the Credit Union Art Competition 11-13 age category. She is now through to the regional finals. Her artwork is on display in the window of Roscommon Credit Union until 10th November. We are very proud of you Victoria!
Siarscéal 2022 Writing Competition Winners
We are very proud of a number of our 5th and 6th class pupils who were winners in the Siarscéal 2022 writing competition. Michaela, Conor, Sarah, Alex and Odhran are pictured here on the steps of the library with Tom Crosby, Cathaoirleach, Roscommon County Council. Missing from the photo is Maliha. Well done to you all!
6th Class Visit to Clonmacnoise
Our 6th class pupils enjoyed a wonderful trip to Clonmacnoise. Founded by St. Ciarán  on the banks of the River Shannon in the 6th Century, the ruins include a cathedral, two round towers, three High crosses, nine churches and over 700 Early Christian graveslabs. Thanks Mrs. Crehan for organising this excellent learning experience.
news2day
Last week, some of our 5th class pupils watched the daily news to educate themselves on daily events. Cillian, Dylan and Seán then composed an email together and sent it into the children's version of the news on news2day. Click here to view the news from Thursday, 13th October and roll on to 2:42 to see the presenter read out the boys' message.