End of Year Reports
It's that time of year again when we will be sending home end-of-year reports. This video outlines some of the important things to remember when looking at your child's report.
Clothing Collection-Thursday 9th June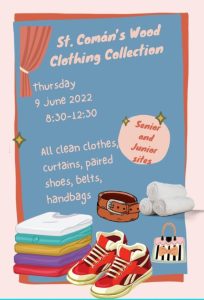 May is the month of Mary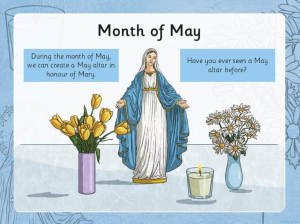 May is the month when we think about Our Lady, Mary. We say the "Hail Mary" prayer everyday and we make a May altar. You can make a May altar at home - it could be on a windowsill or on top of a cupboard. Even if you have no statues of Holy Mary you could draw a lovely picture of her - she usually wears blue and white. You could pick some daisies for her altar or you could draw lots of colourful flowers. What about designing your own candle for Mary, wouldn't that be nice? Don't forget to say the "Hail Mary" prayer every day so that she will protect you and your family. We call her our mother because she is the mother to all of us and we pray to her to mind us, her children. 
Child Protection
On 11th December, 2017, new Child Protection Procedures were implemented for all primary and post-primary schools in line with the Children First Act.
This has brought about some changes to the way schools deal with child protection issues. 
For further information on Children First please click here.