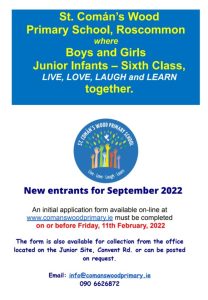 St Comán's Wood Enrolment Application
Now you can fill the Application Form on-line using your PC or a smart phone. You can also upload the supporting documents and digitally sign it using a mouse, digital pen or your finger on touch screens (Mobile, Tablet or PC).
All applications are assessed in accordance with the School Enrolment Policy. Our School Enrolment Policy is available to view here.
Please note that the Enrolment Application Deadline for the 2022/2023 school year is Friday, 11th February, 2022. 
Santa Goes to the Caribbean
Well done to Ms Glynn and children from 4th, 5th and 6th classes who attend Speech and Drama class as an after school activity. They staged a fantastic performance of 'Santa Goes to the Caribbean' for Christmas.
Some Christmas Cheer!
Have a look at this brilliant rap composed by some of our 5th class pupils.
Fantastic DNA in a box
Today our 6th class took part in a workshop called 'Fantastic DNA in a box' from the Cell Explorers Team of SFI. This wonderful, hands-on workshop provided the opportunity for the students to take part in a DNA extraction experiment and behave like a scientist. They were guided through the experiment by their class teachers and by a scientist from NUI Galway who joined the classes remotely. The workshop was thoroughly enjoyed by the students. Thank you to Ms Mannion who coordinated the DNA workshop.
Parents! Do you know that the Primary Curriculum is changing?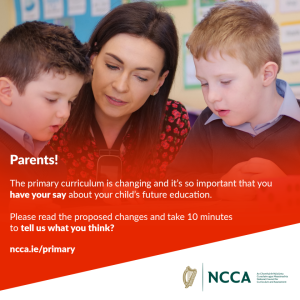 What children learn and how children learn in primary school is changing. The proposed changes aim to enhance children's learning in school and provide for even more relevant and meaningful learning.
You can find the proposals HERE. 
As a parent, it is important that you have a say in shaping your child's future learning. Consultation will close by the end of February 2022. 
Please take 8-10 minutes to tell us what you think HERE
Thank you to our Parents Association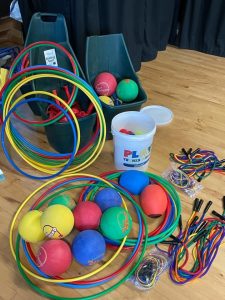 We would like to extend a big thank you to our wonderful Parents Association for funding new yard equipment for both the Junior and Senior sites. We are very grateful for your continuous support. The children and teachers look forward to using the equipment over the coming weeks and months. 
August-September 2021 Start/Finish times; Entry/Exit Routines
St. Comán's Wood PS will reopen for all students on Tuesday, August 31st.
Please click here to view your child's start/finish times and where they are to enter and exit the school grounds.
Science Week 2021
This week marks the start of Science Week 2021. We look forward to lots of fun and engaging Science activities throughout the coming week. We would like to say a big thank you to Ms J Mannion and Ms Duignan for all the work they have put in to organising Science week in our school. 
Four of our 6th class pupils featured on the SFI 'This is Science Week!' show. Hosted by John Sharpson ('Múinteoir John' from RTÉ's Home School Hub), this 45-minute live show celebrated all things science. Well done to Ruairí, Lily, Chloe and Aleksandrs and your amazing performances. We are very proud of you all. You can watch the children in the video below from 6:17 minutes in and also from 35:38 minutes in. 
Child Protection
On 11th December, 2017, new Child Protection Procedures were implemented for all primary and post-primary schools in line with the Children First Act.
This has brought about some changes to the way schools deal with child protection issues. 
For further information on Children First please click here.